Transoms and More stained glass and leaded glass designs are used in doors (cabinet, kitchen, study, library, conference room, bathroom), room dividers, transoms, windows, fireplace screens, entryways, front doors, sidelites, and interior doors (i.e. bathroom, kitchen, family room, wine room, pantry, studio).
Each stained glass and leaded glass work is uniquely designed to reflect your tastes, color schemes and living space. We work directly with you or with your architect, builder, or decorator.
Our first meeting, is a complimentary consultation in the home or job site. The goal is to listen and to determine the size of the project, design, develop color ideas, see the area surrounding the project, and the budget guidelines for the project.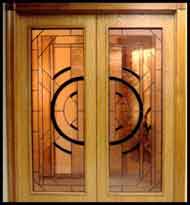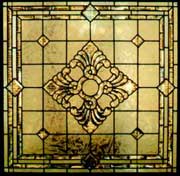 The second meeting is to present several design options drawn to scale and determine if we are on track with your wishes. The goal in the meeting is to receive client acceptance of a line design.
The third meeting generally takes place in the studio to review and get client acceptance of the specific colors to be used in the piece. The recommendations are based upon the colors the client has requested and our observations about what is appropriate for the clients setting. Based on the acceptances of the line design and colors, we request a good faith deposit to acquire the glass and complete the building process.
Pricing of the pieces varies based upon complexity of the project, glass type, bevel sets used, if any, distance from the studio and amount of time required to complete the project from start to finish.
The most important element of the work is the client and what works for the client. We will spend as much or more time with the client in the consultation, design, and stained glass choice phases then we will in the actual construction of the piece. In the local area, we also provide installation services rather than turning the piece over to an inexperienced installer.
A systematic process of developing information about the client's desires, color schemes and sizes takes place prior to the building the stained glass or fused glass project.
Contact us by e-mail at rollie@transomsandmore.com or call the studio at 352-751-5536 to set-up an appointment. The studio is located in The Villages, FL 32162.